If you want to search beyond our library catalogue, please login or register for new member.
HOW SPACE WORKS : THE FACTS VISUALLY EXPLAINED
HOW SPACE WORKS : THE FACTS VISUALLY EXPLAINED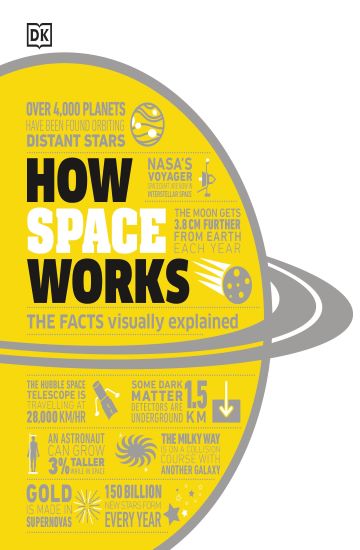 The clearest, most visual guide to space and the Universe for complete beginners to astronomy. shows you the different types of objects in the Universe (so you'll know your pulsars from your quasars) and introduces you to some of the strangest and most wonderful things known to science, including dark matter particles and ancient white dwarf stars that are almost as old as the Universe itself. The book starts with an explanation of our view of the Universe from Earth, then takes a tour of the Solar System, the stars and galaxies, and the furthest reaches of space. The last chapter looks at the technology we use to explore the Universe, from the International Space Station to Mars rovers and the new and revolutionary reusable rockets. Illustrated with bold graphics and step-by-step artworks - and peppered with bite-sized factoids and question-and- answer features - this is the perfect introduction to astronomy and space exploration.
Author
ISBN
9780241446324
ISSN
Call Number
520 : HOW 2021
Publication
DORLING KINDERSLEY LIMITED
Year
2021
Physical Desciption
223PAGES : COLOUR ILLUSTRATIONS ; 24 CM
Subject
ASTRONOMY -- POPULAR WORKS
GALAXIES -- POPULAR WORKS
SOLAR SYSTEMS -- POPULAR WORKS

Related Name
ANNIE MOSS (EDITOR)
HANNAH WESTLAKE (EDITOR)

URL